The world could always use a little more kindness and compassion. Performing one random act of kindness each day is a great way to improve the lives of your loved ones, and even your community. 
The great thing about random acts of kindness is that they don't have to be grand gestures. They can be small, simple gestures that lift up those around you and brighten their days. 
12 Simple Random Acts of Kindness
There are plenty of opportunities to be a little more kind throughout our daily lives. Just imagine how many people we interact with each day—physically and virtually. 
Here are a few examples of random acts of kindness you can perform for your co-workers, your kids, and even members of your community that you might not know.
Work
You interact with your co-workers almost every day, so here are some random acts of kindness ideas for the office that might have you watching the clock a little less.
Send an encouraging email

– Many people regard their perpetually-filling inbox with feelings of anxiety. Sending someone a nice email about a point they made at a meeting or a project they did a great job on can easily lift someone's spirits and is a great way to spread positivity.
Endorse a skill or leave a good review on LinkedIn

– Endorsing a co-worker either for a skill they have or leaving a positive statement about how they are to work with is a great way to boost their confidence and make their day better in a way that's public and professional. 
Learn something new about a co-worker

– Giving someone a chance to talk about what they like to do or something interesting about their past is a great way to build them up. You might even find something in common and forge a deeper connection outside of work.
Share a fond memory

– Remember that meeting that you and a co-worker signed a new client that you didn't think you would secure? Reminiscing with a co-worker that was involved is a great way to build comradery and ensure that they'll be reflecting on their success.
Kids
A great way to teach your children about the importance of being kind is to make it into a daily practice you can do together. Here are some great examples of random acts of kindness you can do with your kids.
Save up for a cause

– This is a great way to teach about the importance of giving and being a good citizen. Start a coin jar or piggy bank and encourage your kids to drop in change they find every once in a while. When it's full, you can donate it to a worthy cause of their choice.  
Make a card

– This could be a fun craft project for the both of you. Grab some construction paper, stickers, markers, scissors, and glue and put together a gratitude card. This could be for someone's special occasion (like a birthday) or it could be totally random (hence, a random act of kindness).
Donate old items

– Encourage your kids to give back while clearing out old items. They can donate toys they don't play with anymore or old books that they don't read. You can donate them together to any number of great charitable organizations. 
Make friends with someone new

– This is a big one! Ask if there's someone at school who's new or doesn't seem to have a lot of friends, and encourage your child to spend some time hanging out with them. Or you could invite your little one to spend some time thinking about what another student's best qualities are. Then have your child write them down and deliver them to the other student. This could have a huge impact on your child as they make a new friend or even learn how being nice to someone new could turn their whole lives around.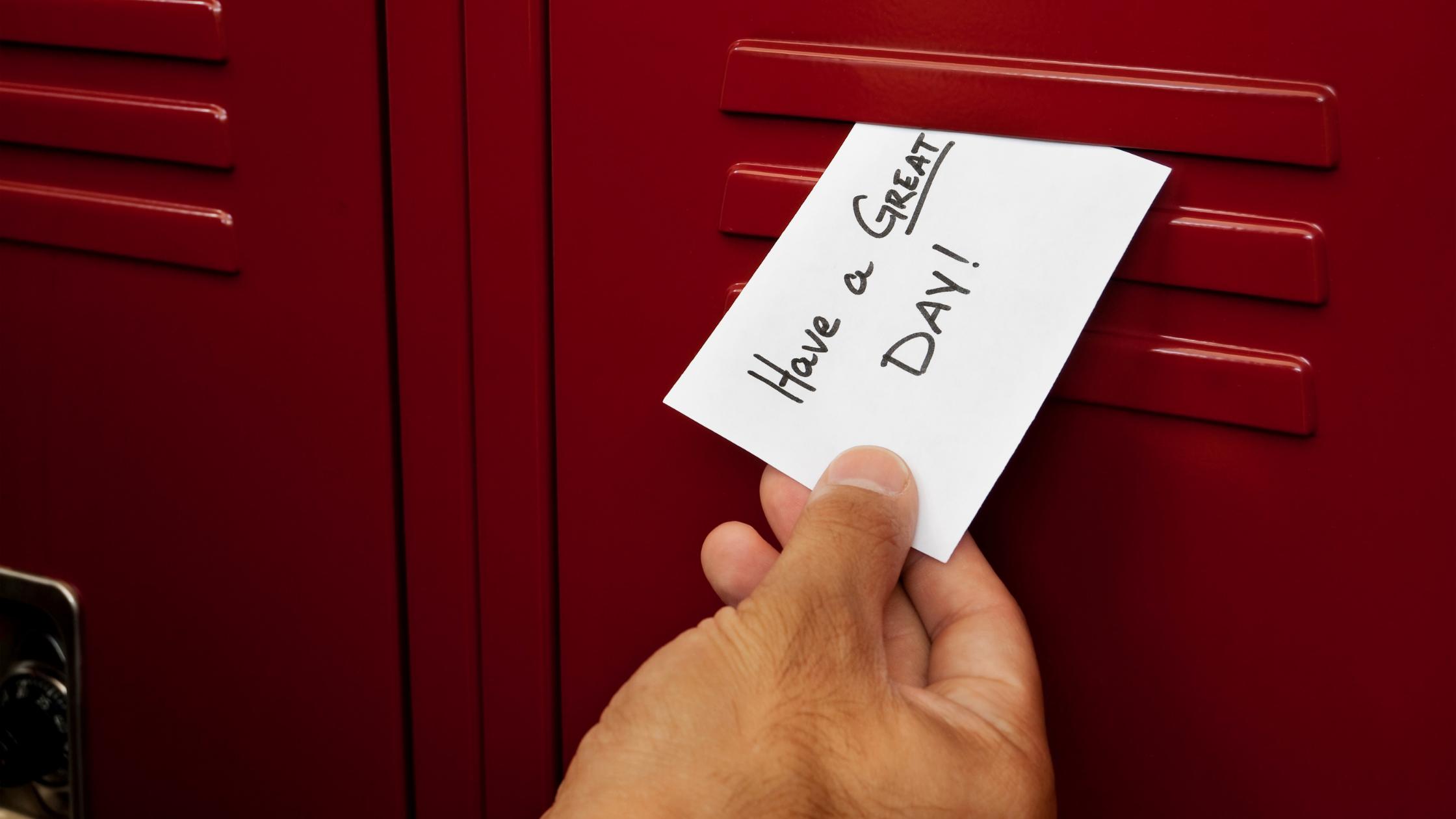 Community
Here are some random acts of kindness ideas that you can put to use in your own community. Remember, they don't have to be grand gestures, just simple acts of goodwill toward others will work wonders.
Buy or eat local

– When you shop or eat at locally-owned businesses, you're putting money right back into the hands of your community, while treating yourself to something delicious as well.
Pick up trash

– Making your community cleaner benefits everyone, whether you pick up one gum wrapper, or get some friends together to pick up trash at your local park.
Leave quarters at the laundromat

– If you've ever relied on a laundromat, you know how this can really make someone's day. Leave a couple quarters or even a whole coin roll by the washer and dryer and give someone a free load of clean laundry.
Leave something nice in a library book

– Maybe a nice note, maybe a dollar bill, or maybe even a bookmark with an encouraging phrase on it. This is a fun little surprise that would really make a bookworm's day.
These are just a few ideas, but you can find more at the Random Acts of Kindness Foundation's website.
The Meaning of a Simple Act of Kindness
Performing a random act of kindness shows someone that you're there for them, and you're looking out for them. Even a tiny act can turn their whole day around, and you never know how large of an impact your simple gesture of compassion can have.
It also benefits you, as performing acts of kindness has been clinically proven to reduce the hormones that cause stress and increase the release of happiness hormones in the brain like serotonin and dopamine. 
Being kind helps everyone involved. 
Celebrate National Random Acts of Kindness Day, Everyday, with VOASW
National Random Acts of Kindness Day is February 17th. This is a great day to put these ideas into action. However, it's not the only time you can support your loved ones and community. 
If you're looking for organizations to support, consider the Volunteers of America Southwest. We're a faith-based nonprofit committed to uplifting the lives of the most vulnerable in our communities.
Due to the COVID-19 pandemic, we're no longer accepting in-person volunteers. However you can make monetary donations and donations of items like PPE, hand sanitizer, and sanitizing wipes to help. 
Ask yourself how you can start committing random acts of kindness today!
Sources:  
The Random Acts of Kindness Foundation. Kindness Ideas. https://www.randomactsofkindness.org/kindness-ideas
Mayo Clinic. The Art of Kindness. https://www.mayoclinichealthsystem.org/hometown-health/speaking-of-health/the-art-of-kindness